The first question arising in your mind as a potential customer looking to purchase a forged identification is  'How and where to get a fake id?'
The answer to 'How' is easy but the first step that you will have to take is 'Where' to get your ID from. So, we know there are vendors in the market advertising similar slogans like ours but as the first-time customer how do you trust and decide on which seller to buy from?
The answer to this can be tricky but requires no rocket-science. All you have to do is use your logic and do a fair bit of research and that is all it takes. We will explain the what principles to focus on before opting for your counterfeit id.
 Use your logic and analyze what form of proof the company you are purchasing from offers  
One of the most crucial determinants is to make sure you look for authentic documentation on their web pages; This can be a video of their production states, ultraviolet sample images of their fakes. All these image samples should have it's first and last name resembling the domain or company name of the vendor. For Example, We can proudly rank ten out of ten for this. As you can see our Scannable Fake ID Images every id of ours comes with the first and last name as 'FAKEYOURID' and '.COM'. You can even take a sneak view of our Fake ID Video recordings from our printing facility to analyze closely how our ids are manufactured and handled with extreme care.
That is not all, We have dedicated pages for each state and license that we make and ensure every product has at least four to five images taken at different angles using only one dummy cartoon in all our samples. Check our Shop page to view all our products and their image samples.
Why are we the best in the business?
We offer some of the best fake id cards in an industry with such a high failure rate. Our guidelines throw light on some vital constituents that will contribute to your safe purchase. At 'FAKEYOURID.COM', We manufacture driver's license as well as state identification cards to ensure we cover your requirements. A website with a Scrupulous design and tremendous effort we are where you will get the best fakes in the market.
How do we make your fake Driver's license 
You send us your picture and license credentials for your license and we will implant it on to our highly professional pre-designed template of any state you want. The result will be a perfect replication and genuine looking fake ID. We print your signature and minimize the flaws from the thickness of the fonts to the size and weight of your ID; everything comes perfect with 'FYD'.
Fake ID Replication Example
First up, you will provide a photo of yourself. This step will also show you how we do not depend on the background color of your photo. We have photoshop and editing experts that will adjust your background accordingly to the required license. So we take a photo with a white background of this anime character which we call Fluppy.
Let's suppose we have received an order for Alabama state license and the photo given is shown below.
Now we use this photo and the first and last name of our website for Alabama Driver's license template.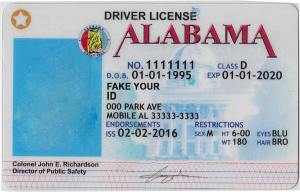 The result after parsing the photo of Fluppy and the information we want on to this template is a perfect replicated license of  Alabama state. Obviously, these counterfeit id cards go through more extremely complex stages and require skillful efforts to bring our a perfectly cloned fake id.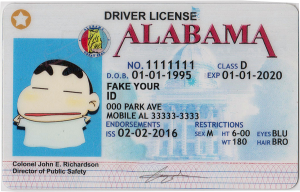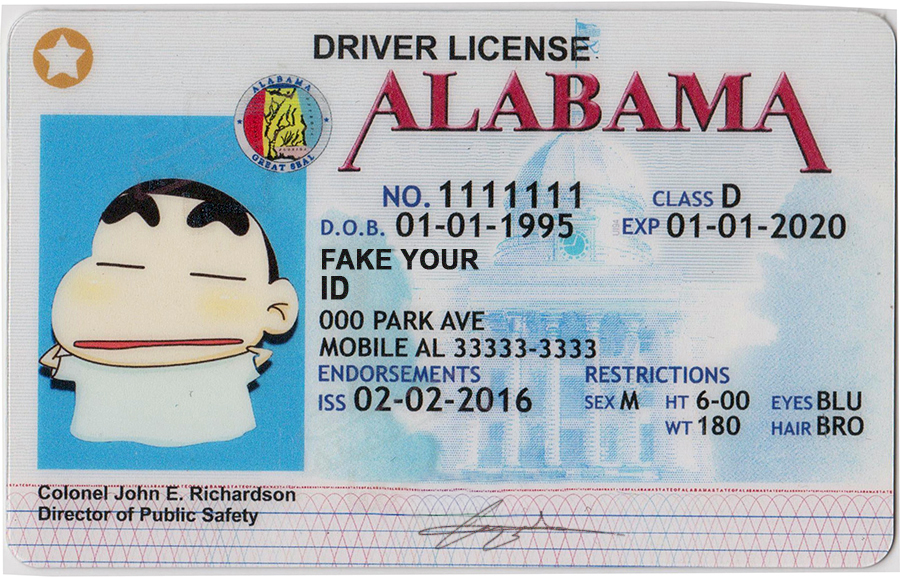 Buy from us and we will show you how to order with us
If you are looking for low priced id cards with a risk of being confiscated at first use, then you can browse away and search for another vendor. We charge high prices for a reason, our printing is indistinguishable, our cards will remain the real deal in the market. We feel confident about our products and so should you while holding our license in your hands.
Take a decent photo using our ID Photo Taking Guide and then you can easily read instructions on our Buy Fake ID page on how to get a fake id from us. If you have more questions you can read our Frequently Asked Questions page to view answers to your queries.